Unexpected Ukulele
Live concert by Choan Gálvez
Published on May 22, 2021
Ukulele can play much more than happy music.
On Saturday, June, 5th, I'll be streaming a live ukulele concert hosted on Bandcamp Live.
The programme for this session includes a few of my non-happy, absolutely non-danceable, unsoothing but beautiful in some manner, will-drive-you-to-tears compositions for solo ukulele—some of them to be premiered on this date. The selection of pieces includes also works by Giovanni Albini, Tony Mizen, Samantha Muir, Matthew Quilliam, and David John Roche.
Nobody expects the Spanish ukulele!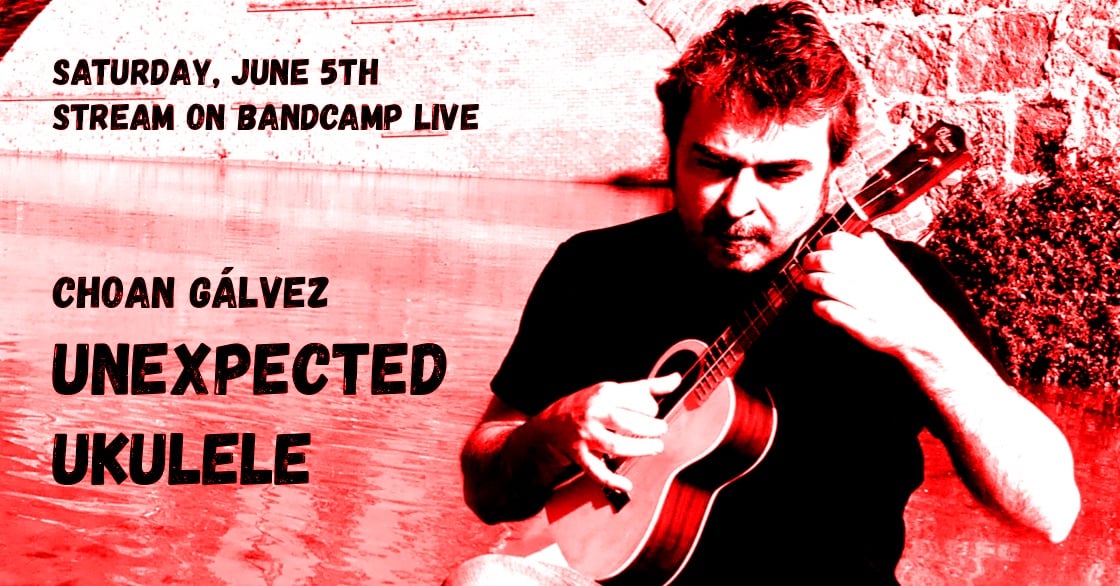 You're welcome to interact through the chat, I'll keep an eye on it between performances and stay for a while after the concert ends.
Programme
Treat Her Kindly, Choan Gálvez (2021) [Premiere]
The Cheerless Walk, Choan Gálvez (2020) [Premiere]
A. P. Drove Me to Tears, Choan Gálvez (2020) [Premiere]
9 Thousand Notes (from Virus), Matthew Quilliam (2020)
Rosarium (from Mirabilia) Op. 73, No. 3, Giovanni Albini (2021) [Premiere]
Ants (from Arthropoda), Tony Mizen (2019)
Love and Admiration (from I Love Ukulele), David John Roche (2020)
The Red Angel (from Lines of Flight), Samantha Muir (2020)
For Crispr (a Goodbye), Choan Gálvez (2021)
A Maze in Grace, Choan Gálvez (2019) [Premiere]
Bigger Steps, Choan Gálvez (2021) [Premiere]
Undressed, Choan Gálvez (2021)
Timing
Concert is scheduled at June, 5th, 19:00 GMT+2 (that's Spanish Summer time).
Other locations:
United Kingdom: 18:00 BST
Germany, Italy, Spain, France: 19:00 CEST
Argentina, Chile, Brazil: 14:00 ART
New York, Toronto, Philadelphia: 13:00 EDT
California, Washington: 10:00 PDT
Hawaii: 07:00 HST
Tickets
Please confirm the schedule of the concert according to your timezone and acquire your ticket, starting at 4 EUR, from Bandcamp.
A replay of the stream will be available for 24 hours.
Hope you can attend!